China, U.S.A., Thailand, S. Korea, Indonesia, Taiwan, Philippines, India, Vietnam, Canada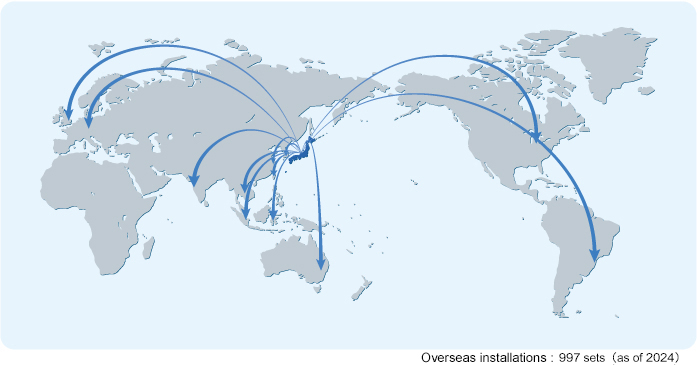 Overseas Locations
China
Nissei Industry Corp. Representative in China
No. 302, 36, 1578 Nong, Pujian Road, Shanghai, China
Tel(135)0180-0925
E-mail:w.li@nissei-corp.co.jp (Chinese, Japanese)
U.S.A.
Thielenhaus Microfinish Corp.
42925 W. Nine Mile Rd., Novi, MI 48375-4115
Tel(248)347-1620 Fax(248)349-9457
E-mail:dolshefsky@thielenhaus.us (English)
u.tsuji@nissei-corp.co.jp
Europe
Thielenhaus Technologies GmbH
Schwesterstrasse 50, D-42285 Wuppetal, Germany.
Tel(0202)481-201 Fax(0202)450-445
E-mail:h.fukudome@nissei-corp.co.jp
Mexico
Maquitec Maquinas y Equipos Técnicos S.A. de C.V.
Protasio Tagle # 79, San Miguel Chapultepec, Mexico City, CP 11840, Mexico
Tel +52 (55) 5277 5545
Email : info@maquitec.com.mx (Spanish, English)
u.tsuji@nissei-corp.co.jp
India
SKB Machine Tools Pvt. Ltd.
B-502, Twin Arcade, Military Road, Marol, Andheri(East), Mumbai-400 059
Tel(022)2920-3539 Fax(022)2902-8016
E-mail:skb@skbmachinetools.com (English)
h.fukudome@nissei-corp.co.jp
Distributors
S. Korea
Young Dong Trading CO., Ltd.
(Korean, Japanese)
Tel(02)563-5635 Fax(02)563-5637
E-mail:youngdongtr@yahoo.co.kr
Yuyeon' 1991
(Korean, Japanese)
Tel(031)790-0792 Fax(031)790-0794
E-mail:yuyeon91@yuyeon.com
Taiwan
Eternal Royal Co., Ltd.
(Chinese, Japanese)
Tel(04)2206-5566  Fax(04)2206-5522
E-mail:eandrj@ms23.hinet.net
Treasure Island Trading CO., Ltd.
(Chinese, Japanese)
Tel(02)2713-4411(分325) Fax(02)2713-8082
E-mail:equipment1@kuangho.com.tw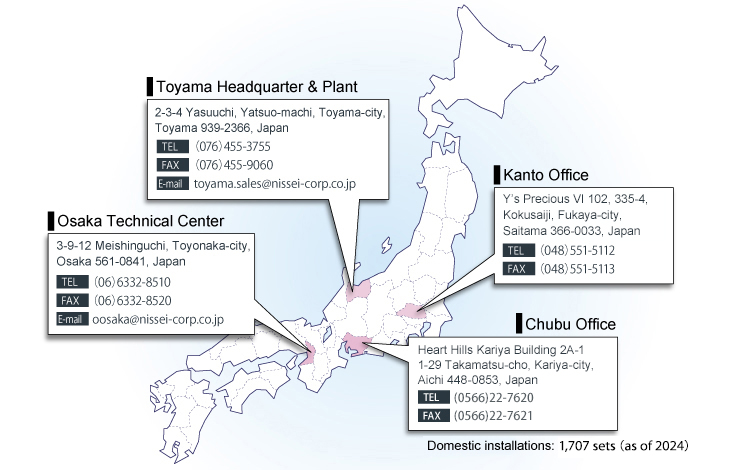 Toyama Headquarter & Plant
2-3-4 Yasuuchi, Yatsuo-machi, Toyama-city,
Toyama 939-2366, Japan
TEL:(076)455-3755
FAX:(076)455-9060
E-MAIL : toyama.sales@nissei-corp.co.jp

Osaka Technical Center
3-9-12 Meishinguchi, Toyonaka-city, 
Osaka 561-0841, Japan
TEL:(06)6332-8510
FAX:(06)6332-8520
E-MAIL:oosaka@nissei-corp.co.jp

Kanto Office
Y's Precious VI 102, 335-4, Kokusaiji,
Fukaya-city, Saitama 366-0033, Japan
TEL:(048)551-5112
FAX:(048)551-5113

Chubu Office
Tori Bldg 3F, 2-5-1 Hashira, 
Okazaki-city, Aichi 444-0837, Japan
TEL:(0564)71-7160
FAX:(0564)71-7162


The history of NISSEI is continuous challenge to new technology.
We have been exploring next-generation technologies since we were established in 1979.
We wish to be a company not only answering to the essential problem, but continously proposing new technical solutions to all customers.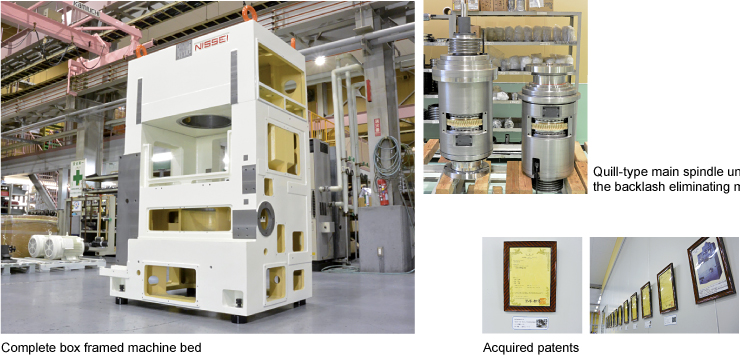 Nissei adopts and develops cutting edge technology, but is also devoted to apprenticing employees to master craftsmen and engineers, enabling best response to customer's needs.